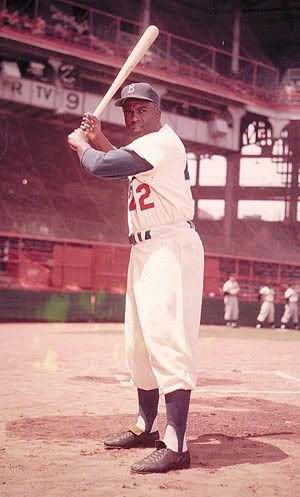 This is among the best bits of news that I have heard all year.
Really!
Forget the hesitation mentioned below, for many reasons,
Robert Redford
will definitely play the role of
Brooklyn Dodgers
General Manager
Branch Rickey
.
For the non-baseball/
People
Magazine crowd it will also seem very logical -
the matching bookend to
'The Natural.'
But the casting question remains: who will play Jackie Robinson and his wife Rachel?
Robert Redford will play Branch Rickey -- or Bill Bryson
By Steven Zeitchik
June 1, 2011 | 5:17 pm
In April, Robert Redford tipped 24 Frames that he'd star in a movie about the relationship between Brooklyn Dodgers executive Branch Rickey and second baseman Jackie Robinson. The film would be written and directed by "L.A. Confidential" writer Brian Helgeland, and produced and financed by Legendary Pictures, we wrote. The company squirmed at our posting on the subject, saying it was early days to talk about the film.
Read the rest of the story at:
Robert Redford is Branch Rickey, but who should play Jackie Robinson?
by Jeff Labrecque
April 7, 2011
Robert Redford has been talking about making a Jackie Robinson movie for seven years, and according to the Los Angeles Times, it's finally in motion. Brian Helgeland (A Knight's Tale) will write and direct, focusing on the special relationship between the Hall of Fame player who broke baseball's color barrier and Brooklyn Dodgers executive Branch Rickey, who orchestrated the historic move with both pragmatic and noble intentions.
Read the rest of the article at:
What's my Line? Branch Rickey
You can watch the original 1950 film in which he played himself, The Jackie Robinson Story with Minor Watson as Branch Rickey here on YouTube:
Attendance at Dodger Stadium continues to plunge
By Steve Dilbeck and The Times' Dodgers reporters
I've been receiving the
Ebbetts Field Flannels
catalog for years and a customer since my days up in D.C., so check out their website for something that fits your style.