FYI: Once again today,
Blogger's
editing software is screwing-up my blog and creating all sorts of headaches for me, leading to a jagged and uneven presentation in drafts as well as the final edits below.
Sometimes, it's almost as if someone else is editing my blog, as from moment to moment, the size and fonts on my screen seem to change from what I want to something else entirely.
So far, the only way I've found to minimize the problem is to make everything BOLD, which I usually hate in other blogs, but which for some reason, mitigates the problem slightly. 
Per the attached bits of flotsam and jetsam, first the slightly amusing then onto the more-than-bewildering.  
First, per the story below, which the 
Chicago Tribune's
headline says it all:
14-year-old boy impersonates cop, police say, Teen goes on traffic patrol 
wearing real police uniform, but is unarmed, authorities say
.
The troubling aspect of this story is that this 14-year old kid in Chicago shows more depth of understanding, energy 
and moxie than Hallandale Beach's current Police Chief 
Thomas Magill
,
who, in my opinion, based on all the known facts, at bottom, ought to be in prison now for what court juries have a
lready found to be true about him
: 
he used city funds and resources to attempt to
frame, prosecute and imprison innocent 
people, who just happened to 
be HB cops
.
(
Yet 
Magill's
 past tenure and future have 
never
 been publicly addressed by
the Hallandale Beach City 
Commission since this was published a year ago.  
In other parts of the U.S., that dogged refusal to deal forthrightly with consequences, with no punishment for 
Magill
, would be news, but not here, apparently.)
P
erhaps we can arrange to have 
James L. Harris
, that 
g
uy who last year wanted to be a Miami-Dade bus driver so badly that he actually took a county bus, receiving compliments along South Beach for his courtesy while driving,
before he was 
finally caught and 
arrested
, and have him assigned as this 14-year old Kid Cop's personal chauffeur.
Part of a youth movement to get rid of all the 'dead wood' in Hallandale Beach, of which there is so much. 
Failing that, can we at least borrow the kid from Chicago and have him patrol the beach area in Hallandale Beach, 

since for years, 

Magill's

 Police Dept. has consistently shown ZERO interest in actually patrolling the public beach once in a while,
even on busy weekends, as is pretty customary in most water-side cities, to put beach-goers minds at ease.
Maybe give him a police radio, a clipboard, and a whistle on weekends so the beleaguered 

contractor lifeguards don't have to continue to do 

everything

, esp. when the beach is really crowded?
As you might imagine, the reader comments
on this story from C
hicagoland 

are

 enthusiastic and supportive -

of the kid!
That sound you just heard was the sound of the 
Chicago
2016
 Olympic bid losing even more air...
So, onto the more serious matter at hand.
See if you can readily connect the following in your head like I did yesterday:
a.) 
Mayor Carlos Alvarez
 defending the 
Miami Mega-Plan
 in general and the 
Port Tunnel
 element in particular, over two broadcast segments yesterday with 
Michael 
Putney
 on 
TWISF
,
This Week in South Florida
;
b.) the painfully naive and formulaic 
Herald
 Letter to the Editor on page 3L yesterday titled 
Public-works
plan worth the money
, written by an 
FIU
 prof named 
Alex 
Lichtenstein
, which sounded like it was really straight from the PR desk of the 
Greater 
Miami Chamber of Commerce
.
c.) The Herald's own 
Action Line
 column of yesterday on page 5B, complete with photo,
I can only imagine how many times that the letter writer, 
Matthew Gissen
, must've thought about that letter of his in his mind, as he passed it, week-after-week, month-after-month.
Apparently, in the rather oblivious world of 
Prof. Lichtenstein
, basic repairs and upkeep are neither sexy nor necessary.
Sounds to me like he actually needs to get out-and-about and see what's really 

going 

on around here, perhaps even have a "scared straight" intervention, so he can get his bearings and see that unlike Chicago, Miami is not exactly the city of "

Big Shoulders

.

" 
To me, the most devastating thing of all was this passage in the 
Action Line
 response: 
"...
work on the escalator has been completed and that the safety inspection
should be finished by the end of February."
Should be? Really? After being broken for two years, does it really take a month to "inspect" something that's supposedly been fixed?
And if it does, or it's not actually fixed, finally, how many other projects are those particular engineers or contractors "
fixing
" elsewhere?
The official response here only raises more troubling questions.
Now maybe I'm wrong, since I was only coming back down here from Washington at the holidays when the William 
Lehman Causeway 
was being built in 
North Miami Beach/Aventura 
-
just down the road 
from me now
- but 
did
 it even take two whole years to build the bridge over the 

Intercoastal

, linking

A1A

to Biscayne Boulevard?
And yet it's taking that long to "
fix
" a transit escalator? 
Those are the folks that 
Mayor Alvarez
 wants us to have faith in?

The ones that yesterday, on the air with
Michael
, he kept claiming '
r
eally weren't government' 
when
Michael
earnestly but continually reminded him of the decidedly notorious track record of South Florida government construction projects,
As I mentioned in an email about two weeks ago, the small square in front of the entrance to 
The National Archives 
that I entered and walked past hundreds of times during the 15 years I lived and worked up there, already

has our

 future written there.
It has a variation of 
Shakespeare's
 line from 
The Tempest
, 
"The past is prologue."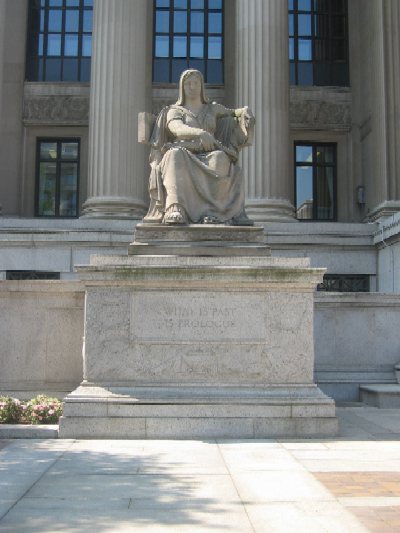 If I were making a documentary film on the possible consequences of the so-called 
Miami 
Mega-Plan
,

feeling as I do now, I'd call it 
"

The Curious Case of Caveat Emptor

."
Sadly, the past will continue to be prologue in South Florida as long as we have the same general cast of characters, who continually fight transparency, accountability and common sense, of which the case of the broken escalator is but a small window into that upside-down world.
Chicago Tribune
14-year-old boy impersonates cop, police say
Teen goes on traffic patrol wearing real police uniform, but is unarmed, authorities say
By Angela Rozas, Jeremy Gorner and Azam Ahmed
Tribune reporters
January 26, 2009
Chicago police arrested a 14-year-old boy for allegedly impersonating one of their own Saturday.

The boy, who has been charged as a juvenile for impersonating an officer, walked into the Grand Crossing District station, 7040 S. Cottage Grove Ave., dressed in a Chicago police uniform, police spokeswoman Monique Bond said. The boy, who reported for duty about 1:30 p.m., partnered with another police officer for about five hours.

The boy identified himself as an officer from another district but was detailed for the day to Grand Crossing and also was savvy enough to sign out a police radio and a ticket book, according to a source. The source also said the boy went on traffic stops with the officer he went on the street with.

Bond said the boy "did not write tickets" and said there was "no information to indicate that he [was] ever behind the wheel."

At an afternoon news conference, police said the boy had no interaction with the public.

After his tour was over, a ranking officer became suspicious of the boy. Police said the officer discovered the teen was not a real police officer when he couldn't produce any credentials. The boy was wearing police-issued pants, shirt, vest, sweater and skull cap, police said. 

He was missing his police star, but that was not discovered until after he returned from traffic patrol. Police said the 14-year-old's partner on the traffic assignment did not recognize the boy was underage.

The source said the boy had an empty holster and a newspaper in place of a ballistic vest in his vest carrier.

Police described the boy as a former "police explorer," which means he was part of a community program run through the Police Department's Chicago Alternative Policing Strategy (CAPS) that allows youths to interact with Chicago police officers. He was part of the explorer program in 2008 in the Englewood District.

"The boy was not armed, and the matter is under investigation with Internal Affairs," Bond said.

Bond also said that how the boy acquired the police uniform was under investigation. Police officers need to present identification while acquiring their uniforms, police said.

The boy "has identified an egregious breach in security," Deputy Supt. of Patrol Dan Dugan said.

The boy, whom authorities did not identify since he's a juvenile, is scheduled to appear in Juvenile Court at 10 a.m. Monday.

Reader comments at: http://www.topix.net/forum/source/chicago-tribune/TFMSRHVJVSIGH7BOC
-----------------------------------------
Tomorrow the 27th will mark one year since John Holland wrote this compelling Sun-Sentinel piece, which is still THE only media this story has received.
South Florida Sun-Sentinel
Hallandale Beach to pay to settle one of two former police officers' lawsuits
By John Holland
January 27, 2008
Hallandale Beach commissioners have agreed to pay more than $100,000 to settle a lawsuit alleging Police Chief Thomas Magill falsified evidence, a city board held an illegal meeting and detectives persuaded a felon to lie under oath about a fellow officer.
Mayor Joe Cooper and attorney Alberto Milian, who represents former Hallandale Beach Police Officer Talous Cirilo, confirmed the city's settlement with Cirilo but would not comment further, citing a confidentiality agreement. However, Cooper said the payment was more than $100,000, including attorney fees.
'I'd love to talk about this and tell people what happened, but unfortunately I can't,' Cooper said.
Magill referred questions to City Attorney David Jove, who could not be reached for comment.
The settlement comes less than two months after Cirilo filed two lawsuits against the city, alleging wrongdoing in the department and City Hall. Hallandale officials fired Cirilo, alleging excessive use of force, even though a jury acquitted him on battery charges.
Cooper said the secrecy is warranted because a separate lawsuit, filed in federal court by former acting Police Sgt. Mary Hagopian, has not been settled. She promised to speak about the settlement at a later date 'if I'm allowed to.'
Magill and City Manager Mike Good fired the officers two years ago after prosecutors charged them with misdemeanor battery on prisoner Michael Brack. Early on April 1, 2005, Brack beat his brother as they fought in a moving car, then attacked officers who tried to intervene, according to arrest records and police reports.
Months after the arrest, a civilian employee said Cirilo choked and used a Taser device excessively on Brack.
More than a year later, the State Attorney's Office charged Cirilo with three misdemeanor battery counts. Hagopian was charged with a misdemeanor for using the stun gun on Brack as he struggled with officers in a jail holding area.
Defense lawyers said Magill orchestrated the charges as part of a vendetta against Hagopian and to show his bosses at City Hall he was a disciplinarian. Testimony at trial showed police employees mishandled two key pieces of evidence - a video surveillance tape and software from the Taser - distorting the confrontation between the officers and Brack, defense lawyers argued.
Prosecutors tried the officers separately, but jurors reached the same conclusion, acquitting them after about 15 minutes of deliberation.
After the acquittals, the officers tried to get their jobs back, but Magill and city officials refused.
In one of the lawsuits, Milian accused the city civil service board of holding an illegal meeting outside City Hall on Oct. 9, 2007, one week before a scheduled hearing on the reinstatement.
Florida law mandates that all meetings be advertised and prohibits public officials from meeting out of the public eye or discussing cases with each other. At least six board members met and discussed the meeting in a 'knowing violation' of the law, according to the lawsuit.
Good, the city manager, could not be reached for comment.
Hagopian, a 15-year veteran, and Cirilo, on the force for five years, hired different lawyers and filed in different jurisdictions but made the same argument: Magill pressured his internal affairs officers and detectives to manipulate evidence and coerce false statements out of Brack so he could fire the officers and enhance his image as a reformer.
Magill used public money to have officers track down Brack on a Louisiana oil barge, where he ended up after leaving Broward County and forfeiting his bail, both lawsuits assert.
The State Attorney's office dropped all the assault charges against Brack, including the attack on his brother, then used him to testify against the officers.
The chief temporarily assigned several officers to internal affairs without any training, for the sole purpose of building a false case against the officers, Hagopian's lawyer Rhea Grossman said in court papers.
Magill sparked criminal charges against Hagopian 'by preparing directly or at his direction police reports containing false or misleading information,' Grossman wrote. Both lawsuits contend Magill elicited false testimony and compiled misleading evidence that he took directly to prosecutors.
U.S. District Judge William J. Zloch tossed out four counts last month, saying they belong in state court. He refused to dismiss two others, including one alleging Magill presented false information to prosecutors so Hagopian would be arrested. Zloch also let stand a charge that the city had a policy of not training internal affairs officers that, Hagopian argued, 'encourages fabricated evidence for the sole purpose of allowing the whims of its police chief to terminate employees.'
Milian said last week that the jury's quick acquittals proved the charges were bogus.
"This case was an abomination from the very beginning, and good officers were hurt," Milian said. "It could ultimately have a chilling effect on officers who want to protect themselves and their colleagues but are afraid because they could get in the same type of situation." 
---------------------------------------------------------- 
As you read the article below, tell me this isn't proof that the past is, indeed, prologue!

South Florida Sun-Sentinel
FALSE ARREST VICTIM ON GUARD BUT SAYS HE BEARS NO GRUDGES

May 1, 2000
By Tanya Weinberg Staff Writer
Henry Perez won't go anywhere without his identification. 
Not because he thinks he might get a ticket. Not because he thinks he might not be allowed into a bar. 
Because he knows that without identification, police could throw him in jail for another person's crime. He knows he could lose his job and a week of his life before his captors figure out they have the wrong man. 
The odd thing is, when Perez suffered those consequences four years ago, he did have his identification. Hallandale Beach Police arrested the then-17-year-old on his way to school because he had the same name as a teenager wanted for grand theft in Miami-Dade County. 

His driver's license showed he was two years older than Henry Perez the suspect. He kept telling the officer he had the wrong man, to check and he would see. 

"He didn't want to listen," said a soft-spoken Perez on a recent evening before starting his workout at Contenders Boxing Gym in Hollywood. 

For one week of fear and frustration, it seemed nobody would listen. Not the police, not the jail guards, not counselors who asked Perez to fill out surveys on drug use but offered little guidance. Not even a judge. He ordered Perez sent to Miami-Dade County without letting him speak. 

When Perez's lawyer convinced another judge they had the wrong Henry Perez, it took the jail another day and a half to release him. 

The state last year settled Perez's lawsuit against the juvenile justice system for $75,000. But for four years, the city of Hallandale Beach did not apologize, did not acknowledge the mistake, did not make amends. But now it will. 

The city attorney told commissioners two weeks ago that they should stop the appeals process and settle Perez's civil lawsuit for the $100,000 a jury awarded last year. This after Perez's lawyer offered to settle for $19,000. 

"They told us to go fly a kite," said Miami attorney Scott Jay Feder. 

Perez said he plans to save the settlement money. 

"I'm just happy to be done with it," said Perez, who focuses on his budding professional career as a lightweight boxer with a 5-0 record and works days as a customer service representative at Ramada Plaza Resorts in Fort Lauderdale. 

He is surprised his case prevailed. 

"I thought because I was going against the police station there was no way," he said as he wound yellow hand wraps around his knuckles. "I thought because I was young, they wouldn't take my word for it." 

And the judge and jury might not have, Feder said, if the evidence hadn't shown that the arresting officer lied at trial. 

Arrested before 9 a.m., Perez said he was not allowed to call his mother until he was taken to jail late that night. Officer Timothy Donahue testified that in the morning he contacted Perez's mother, Gloria Frances, and told her to bring her son's identification. 

According to Donahue's testimony, Frances said she noticed that Perez had left his wallet at home but she could not bring it in, so officers detained Perez. But the official log of Perez's belongings at the time police booked him showed that he had his identification with him. 

Donahue resigned as a Hallandale Beach officer in October 1998 and currently is a Davie police officer. 

Perez's case is not the only high-profile blunder the Hallandale Beach Police Department has made recently. 

A police SWAT team a year ago surprised a couple by bursting into their apartment and searching them for drugs and guns. The couple, New York horse trainers who say they now avoid South Florida, are suing Hallandale Beach after police admitted to raiding the wrong home. 

Perez and his family just moved from Hollywood to North Miami, and although he is 21, he always tries to call to let his mother know where he is and whether he'll be late to spare her the feeling of panic in his absence. 

Perez said he doesn't focus on the past, on how his pleas to check his fingerprints went unheeded, or about the days and nights in jail when he avoided the frequent fights or slept shivering after someone stole his pillow and blanket. 

Other things Perez doesn't dwell on: that he had to stand up his girlfriend the day of his arrest -- Valentine's Day -- that the nursing home where he worked wouldn't take him back although he explained the arrest was a mistake, that he wouldn't leave the house for several weeks after, afraid of another false arrest, and that he had to make up the time in summer school. 

Perez said he has no grudges against police officers. He does try to stay out of Hallandale Beach, though. 

"When I see a Hallandale officer, I might get a little worried," he said with a shy smile. Then, patting at his thighs, he added: "I just check and see if I have my ID."