FY 2011-12 - Proposed Budget and Multi-Year Capital Plan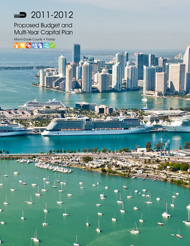 Budget-in-Brief
(1.41 MB)
I plan on being at the Thursday night meeting in Aventura at 7 p.m.
19200 West Country Club Drive.
Warning

: There are no directional signs on or near U.S.-1, Aventura Mall or other main roads indicating where the Aventura Govt. Center is located, and trust me, asking directions in the area is a fruitless exercise.
The best way to get there is to turn EAST at U.S.-1 & N.E. 195th Street, hugging the south border of Aventura Mall, and as you approach W. Country Club Drive, make that right onto the road, then drive under the Lehman Causeway/NE 192 Street, or what everyone I know calls 'the Lehman Bridge.'
The ugly multi-story building on your right is the one you want.
See the map at bottom.
Be sure to have plenty of photo IDs with you and to allow enough time to be hassled just trying to get in.
The City of Aventura acts like that city building is The White House!
It's

NOT

, as I've been to The White House plenty of times, and the adjoining buildings, too, like OMB, and trust me, the people in D.C. handling security are much friendlier and professional.
*

BEFORE

you drive under the Lehman Causeway/NE 192 Street, MAKE SURE you stay in that right lane and are

NOT

forced by traffic into a turning lane.
If you are not careful and get frustrated with the traffic, you can easily be forced into a turning lane, which may cause you lots of problems, inc. possibly having to drive east parallel to the causeway. Once that happens, y
ou can
NOT
make U-turns or make right hand turns to turn around due to the buildings.
You will have to drive for five-10 minutes depending upon traffic in order to get back to where you just were.
Just saying...